FAST FENCE™ electric netting portable fence is a fast effective way to control most farm animals and to protect gardens, fruit trees, landscaping, etc., from many types of animal pests and damage. Only FAST FENCE™ has a standard 4x6 inch (10x15 cm) mesh for safer more secure control. Sheep and goats are less likely to put their heads through it and get caught, and dogs or other predators are excluded better. All the posts are already installed in the netting at the proper spacing making it very quick to erect the fence.
FAST FENCE™ Nets are available for most every purpose in six styles with three colors and three heights, 34", 36", and 42-44" (85, 90, and 105-110 cm).
Also available are 4' Post Kits (F684) and 5' Post Kits (F685) which contain 6 fiberglass posts, a drive cap, and a bag of cotter clips. These posts are used for more rigid corner posts, to hold nets up on especially high spots, for gateway posts, and for mounting small battery powered energizers like the MAXIM B15.

FAST FENCE™ Nets have mesh that is tighter and safer than other designs. Posts with one piece straight spikes that are zinc coated make the nets easier to handle. Standard 34" Nets are "for Sheep and Gardens", are 34" (85 cm) high, and will control most other large farm animals too, like pigs, cows, and horses. Standard 42" Nets (105 cm) are "for Sheep, Goats, and Dogs", and provide extra security and peace of mind. Both Standard Nets are orange with white posts. Countryside™ Nets are green with black posts. All these electric fence nets come in 165 foot (50m) rolls.
F601 Standard 34" Sheep Net: $127.00
F604 Standard 42" Goat Net: $160.00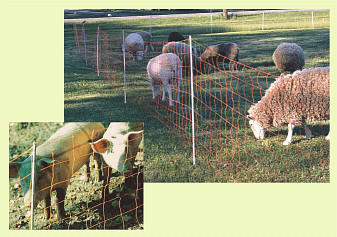 F603 Countryside™ 34" Net: $132.00
F608 Countryside™ 42" Net: $165.00

Subsidized shipping saves $15-$25 per net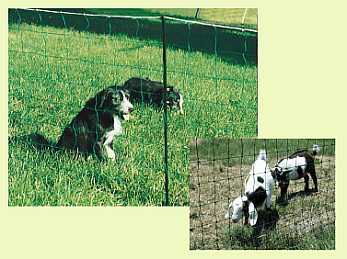 Some guy strings and stakes are provided for use at corners. All nets have clips and tie strings for attaching one net to the next and a small repair kit in case any netting becomes torn or broken. Heavy duty Post Kits and Gate Nets are available handy accessories.
Great For Dog Pens
Since FAST FENCE™ Electric Nets are so easy to move, cleaning the dog pen is less necessary and mowing the grass is much easier. The Standard or Countryside 42" nets are best for large dogs or ones prone to jumping and 34" Nets work fine for other dogs. For smaller pens in confined areas, Backyard Poultry Net is available.
FAST FENCE Controls Great Danes
FAST FENCE™ Selection Guide - help choosing