Dry Country™ Dual Polarity™ Combo Mesh™ Nets are the most versatile electric net fence made. They are tall, have tighter standard mesh with very tight bottom mesh, and can be operated as "hot and cold" or "all hot" fences.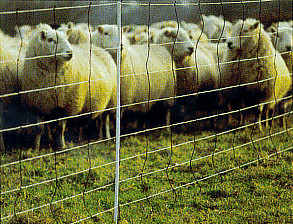 Dry Country Net user testimonial
Dual Polarity™
With Dual Polarity™ nets, animals are shocked when they touch two adjacent wire strands with opposite polarity (one positive and one negative) at the same time. The earth or ground is not used or needed to complete the electrical circuit. Alternate strands are separately connected together at the ends of the net so that the netting fences can be operated either in Dual Polarity™ mode or regular "all hot" mode.
Combo Mesh™
Dry Country™ Nets also have Combo Mesh™ with mostly standard 4" x 6" mesh but with two extra non-conductive strands at the bottom to make a finer and tighter 2" x 6" mesh for a more effective fence with smaller animals and predators. This smaller mesh size area is a barrier that tends to push animals up into the electrified portion of the fence. However, these extra strands do not leak any electric shock from the fence or permit any short circuits.